January 19, 2019 | Megan Thiel
IN THE CELLAR...
Stabilizing and Clarifying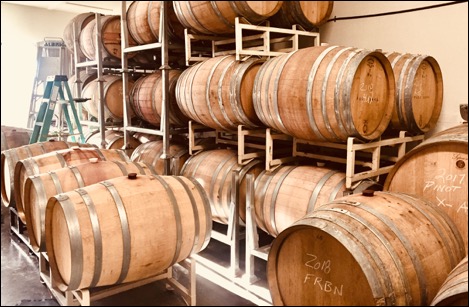 In the 40 Knots cellar, it's quiet. Our estate grown wine is well past the fermentation stage and is relaxing well into the New Year. Layne's hard work for 2018's vintage is mostly behind him, and our close to final product is ready for testing by our consulting chief winemaker Michael Bartier from the Okanagan Valley. http://http://www.bartierbros.com/index.php/the-brothers At this stage, our cool climate wine undergoes sensory analysis and grading. Michael's suggestions help us push boundaries to ensure you're receiving the highest quality. Through our biodynamic practices and green farming techniques, we aim to offer you the absolute best of what Vancouver Island has to offer.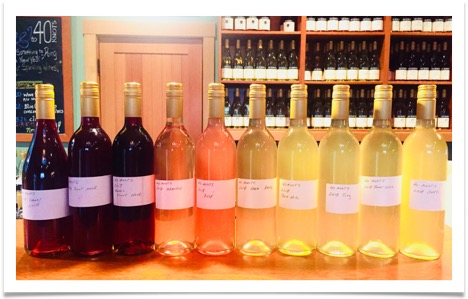 Just as this time of the year calls for quiet reflection, so is the stage of a wine's life. We're ultimately at the fine-tuning stage, where a young wine prepares to either age or become bottled. There are a few methods to help separate the last naturally occurring unwanted components; clarifying and stabilizing.
Clarification is achieved through two methods:
FINING
Fining is the process in where a substance is added to the wine to help it bond with unwanted particles, such as grape fragments or dead yeast cells. Some common agents are animal based, egg whites and fish bladders to name a few. 40 Knots is proud to offer you vegan and gluten-free wine, using none of these products. Our fining methods are achieved by way of bentonite addition; a clay compound notable for absorbing protein and bacteria.
FILTERING
Where our red wine is unfiltered, the filtering process is reserved for our white's. A biodegradable sheet filter is used to gently run through, polish and ensure sterility of the wine.
Stabilization is achieved through manually lowering temperatures:
COLD STABILIZATION
This takes place with our white and orange wine. Tartaric acid is the most prominent acid found in wine. This tends to bind with tannins and lees during fermentation and when the wine is inevitably cooled down before consumption, there is potential for crystallization. This has the appearance of glass, which appears unappealing to the naked eye. These are commonly referred to as "wine diamonds" and are 100% food safe! Cooling down our stainless steel tanks through cold stabilization helps to shake down these crystals before the wine hits consumers mouths.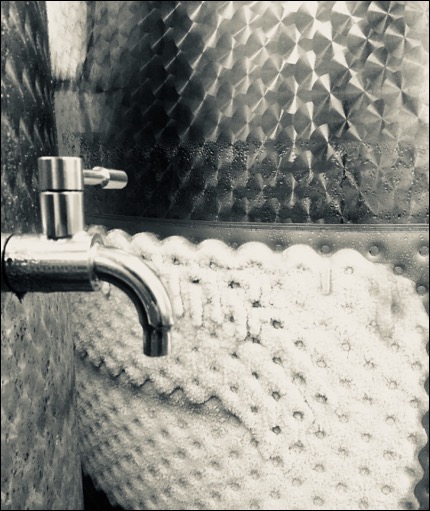 *UPDATE* Absolute excitement for our 2018 vintage, stay tuned for release date announcements!
Guests coming into town for a visit? Looking for exciting new opportunities for your family and friends? Keep your eyes peeled for our upgraded 40 Knots Tour Program! Stay tuned on our Facebook page or website for updates.
https://www.facebook.com/40KnotsWinery/
Comments
rocky
@ Jan 6, 2020 at 3:31 AM
glad to see your garden which posts in your blog.
ITNews Technology
@ Feb 8, 2020 at 7:50 AM
I have this knowledge before thanks for such beautiful article.
Margarate Rouse
@ Feb 27, 2020 at 4:43 AM
This post is informative, glad to read this.
Lita Copeland
@ Apr 16, 2020 at 9:22 AM
This is the best informative post and I am glad to see this kind of brilliant informative post.
Sylvester
@ May 24, 2020 at 11:31 PM
Consuming a variety of foods will ensure you're getting all of the nutrients you need. The road to healthy eating is easy with delicious recipes from Fitmc. Browse our collection for healthy tips and menu ideas, including low-fat, low-calorie
Alisha5050
@ Jul 20, 2020 at 4:52 AM
Hello guys, I am Alisha, and this is my Dubai call girl agency, so if you want your favorite call girl partner in Dubai, then you should visit my Dubai Escort agency.
saeed20
@ Aug 26, 2020 at 8:20 AM
https://www.funeralsbarnsley.co.uk
saeed20
@ Aug 26, 2020 at 8:20 AM
very nice http://www.funeralsbarnsley.co.uk
saeed20
@ Aug 26, 2020 at 8:21 AM
nise
saeed20
@ Aug 27, 2020 at 1:53 AM
hi
saeed20
@ Aug 27, 2020 at 5:33 AM
hi
saeed20
@ Aug 27, 2020 at 5:36 AM
ji
saeed20
@ Aug 27, 2020 at 5:37 AM
hi
saeed20
@ Aug 27, 2020 at 5:44 AM
hi
Hostinger Coupon
@ Sep 8, 2020 at 4:32 AM
Nice Technology.
Best VPS Hosting
@ Sep 23, 2020 at 5:58 AM
You are doing a very amazing job.