February 16, 2019 | Megan's blog | Ziggy Ziggy
Biodynamic Farming
-Marmalade is a big word
Marmalade is a big word. So is sustainability, biodynamic and lutte raisonnee to mention a few. The environmentally friendly wine scene abounds with all kinds of words. It is not easy to know what the terms mean, and sometimes they are carelessly bandied about by producers, consumers and reviewers alike. But alas, there are control agencies monitoring compliance with a diversity of rules. The most talked about is biodynamic, and 40 Knots Vineyard and Estate Winery is excited to be working towards certification. In fact, we have been since the owners purchased the property in 2014. And in fact, it was how their grandparents always farmed before there was a name for it.
So what is biodynamic? Basically, it is quite straightforward... just as marmalade is another word for jam... biodynamic is respect for the environment. It means using products which are not harmful to humans, flora, and fauna. It is about a hands-off approach to farming and allowing Mother Nature to do her thing, and for us, to learn how to work in harmony with her.
Chardonnay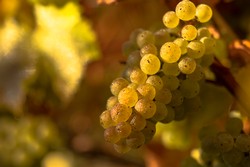 Hard Working Pilgrims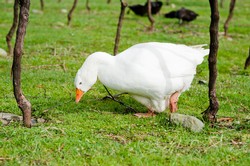 Interpretive Trail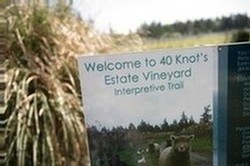 At 40 Knots, all of our crew works with Mother Nature in mind. Each has a deep respect for the vineyard and every task they do. And one doesn't have to go far on Vancouver Island to find like-minded farmers and customers. In fact, it is well recognized how forward thinking our community is, and their deep care for this land. It is a big reason why the owners chose this area to farm. When 40 Knots won the 2018 Comox Chamber Award for Sustainability, it was indeed recognized that we could not have done this without you. Check out our video below of Layne giving the "Marmalade" speech.
So what is everyone else doing? Trends are showing that in France, organic wine producing acreages went up 39% in two years, and as of 2012, 8% of wine growing acreage was biodynamic or organic. But is it possible, to ever get the land back to how Mother Nature intended? Some say that it will be for the New World wines such as ours. However, some say that some European vineyards that copiously used lead and arsenic (arseniate de plomb in French) as an insecticide during the twentieth century are beyond repair. As is the high lead content in soils in Bordeaux that may be due to lead arsenate.
Great wines are not made in the tank and the barrel. Great wines come from the vineyard.
So, what about all the fluffy, weird burying of horns and following the moon? It may sound like some sort of witchcraft and some may balk at the idea that moons can have any effect. Well then, we call upon all you non-believers to take the:
Lunar Challenge
Following a lunar calendar is not only the main direction for biodynamic farming, but it can actually help your wine taste better! Have you ever wondered why one day your favorite bottle of wine can taste glorious whereas other days not so much? Studies have proven that the moon can affect the way wine tastes. Following this calendar states that there are root days, fruit days, flower days and leaf days.
There are lots of references to this on the internet, and at 40 Knot's we all love Wine Folly. Check out their link to the Wine Lunar Calendar: https://winefolly.com/update/biodynamic-calendar-fruit-day-wine-tasting/
---
Fruit Days: The best day for drinking your favorite bottle of 40 Knots wine!
Root Days: Good days for plant development. Wine flavors not at their best
Flower Days: Good days for tending to your flowers and drinking your floral wines such as Ziggy
Leaf Days: good days to prune back your vine's, don't break out the expensive bottle of wine...
---
We want to hear back from you after you have completed the Lunar Challenge. Let us know what wines were most affected by the moon, and which wines you think are best left for Root and Leaf days. Leave a comment below, and I will be excited to learn alongside you as we discover together.
Want to connect with our little slice of Mother Nature's heaven? I will be guiding guests through a vineyard tour where you can sip the wine among the vines that created them. Book for yourself and your loved ones! Offered throughout the Spring and Summer on selected dates and times.
40 Knots grows and crafts high quality, ethical, clean wines that are distinct to Vancouver Island.
Comments
Commenting has been turned off.