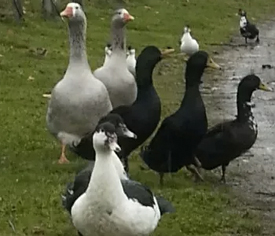 Weed Eaters & Large Bug Consumers
Meet our Pilgrims, the most friendly geese you will ever come across. They also work to alert the ducks and sheep of humans in the vineyard bringing treats to them with their very loud calls. John Wayne, Scarlet O'Hara and Marilyn Monroe love long leisurely baths after a long hard day at work and cuddle with the sheep at night time.
Our Indian Running Ducks become more beautiful by the day with lovely emerald green showing in the sun. They are very elegant and seem to have a certain wisdom in their eyes. They accept the geese and muscovy's as their family. They are respectfully named Raj, Mohammed, Kumar, Sandeep, Mahatma and Gautama.
Our muscovy's are our newest addition, raised from hatching by our generous neighbors. Although shy at first, as they get older they attach themselves closely to you. They are all family with the parent's names of Sonja and Lars, two of 40 Knot's dear friends, and their 7 children waiting to be named by customers. When at 40 Knots, drop your suggestions in the Duck Jar.