Our Green Farm
40 Knots has achieved Gold from Canada's Green Tourism, delivered
by Green Step Solutions International.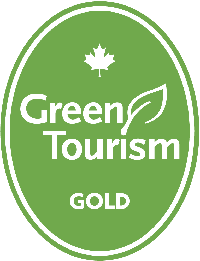 Sustainability Promise
40 Knots is committed to continuous certification in Green Tourism, a most relevant and credible recognition that requires continuous improvements and team commitment with considerations from cradle to re-purpose.
---
Photogallery rendered here.
Green Tourism is the world's largest and most credible sustainable tourism certification program. This program was launched as a way to help businesses improve their sustainability and become recognized for their efforts. Every member of Green Tourism, like 40 Knots, is individually assessed by trained green business experts, who review everything from efficiency to food sources.
"It is very exciting to have our work recognized by such an important program and to be among other companies who have the same philosophy. Hearing that Green Step was just awarded Best For the World Environment in 2016 gives our certification even more credibility."
40 Knots has made strides towards sustainability by evaluating the environmental impact of each process, each procedure and each purchase before any decisions are made. Partnering and collaborating with like-minded businesses have been key to success.
Brenda says, "It's a great start, but this is not a job that will ever be finished. It is a way of doing business responsibly. There's always more we can do, more green partners to meet, and positive impacts we can make on the environment."
Accomplishments:
In The Vineyard where all the grapes are handpicked, resident Sheep, ducks and chickens do all the mowing and pest control.
One Dollar from every bottle of Safe Haven goes to support Project Watershed. Click here to learn more about their work.
Local First – Soaps and other beauty products, cheeses, salts are all made locally with 40 Knots wine, lees and pressed grape skins and pips saving these from landfills.
Re-using the old: Furnishings are of repurposed printing presses and Italian Sewing Machines, an antique Italian basket press and crusher are still used in some of the craft wines.
Water consumption and fertilizers is monitored by an ASAP Geomatix drone and the data is mapped. Maps show moisture content so that if irrigation is necessary it may be targeted through the efficient drip irrigation system. 40 Knots works with BioFert Manufacturing to source only non-synthetic fertilizer applications for the vineyard. Mapping allows "spot treatment" rather than blanket application. All fungicides and pesticides are 100% organic, using only micronized sulphur, calcium, potassium bicarbonate and dish soap.